6 Flash Sales Promotions We Can All Use
I was reading through a Keap expert blog article and just had to share what I discovered. They take examples of from a search engine of email newsletters to show us examples of specific sales promotions. As a Keap expert, I thought these are really good examples we can all learn from. We can then use them to get our creative juices flowing and come up with our own flash sales to promote our products and services. It's very nicely done so let's go over them.
If you want even more examples, check out their articles. They cover additional tactics like:
Buy One, Get...
Coupons or Discounts
Giveaway or Free Samples
Recurring Sales
Tripwires
Limited Time Offers.
Any sales promotion is a proven way to promote sales and attract new customer. It's especially useful during seasonal buying periods (i.e. Black Friday, Back to School, etc.). Sales promotions are a tactics any business owner can use to create urgency and increase sales.
It's all based on the assumption that everyone loves a good deal.
In the Keap expert article, they point out JCPenny research that shows shoppers would prefer to pay more during a sale than to always have low prices.  People enjoy getting a deal so badly they are willing to work against themselves and pay more.  Those are the facts. Go figure.
A flash sale is an offer made for a short time. When a flash sales is done right, it create urgency and hype. The point is to get an upward spike in sales.  Here are some examples.
Flash Sales Example #1 - BuildASign.com

Why it works: BuildAsign.com uses a nice graphic image to get your attention. They draw you immediately to what you'll save. It's a simple. It's not cluttered with a lot of detail.  The call-to-action (CTA) stands out and it's clear that you only have forty eight hours to make your move. The "Expires Thursday at Midnight CT" tells you examples when it's over to prevent any confusion. Even if you didn't get to the deal right away, you know when it's going to be over.
2. Current
Why it works: Current takes advantage of a prime shopping time—lunchtime. This is when their target audience, women, are taking their break in the middle of the day and they are looking around to buy something. Its got a fun design with the clear connection to lunchtime. The Shop Now button is a little on the small side. I would make it a bigger, but all-in-all, it's something we can all try.
3. Home Decorators Collectors
Why it works: This one is interesting. It plays on the fact that you've already missed some deal. The 20% is already slashed out. Nothing creates a sense of urgency like realizing you already missed out on a deal—except that now you have an even better deal in front of you. If you were on the fence before, the extra 5 percent off might just get you to make that purchase.
4. Shoes.com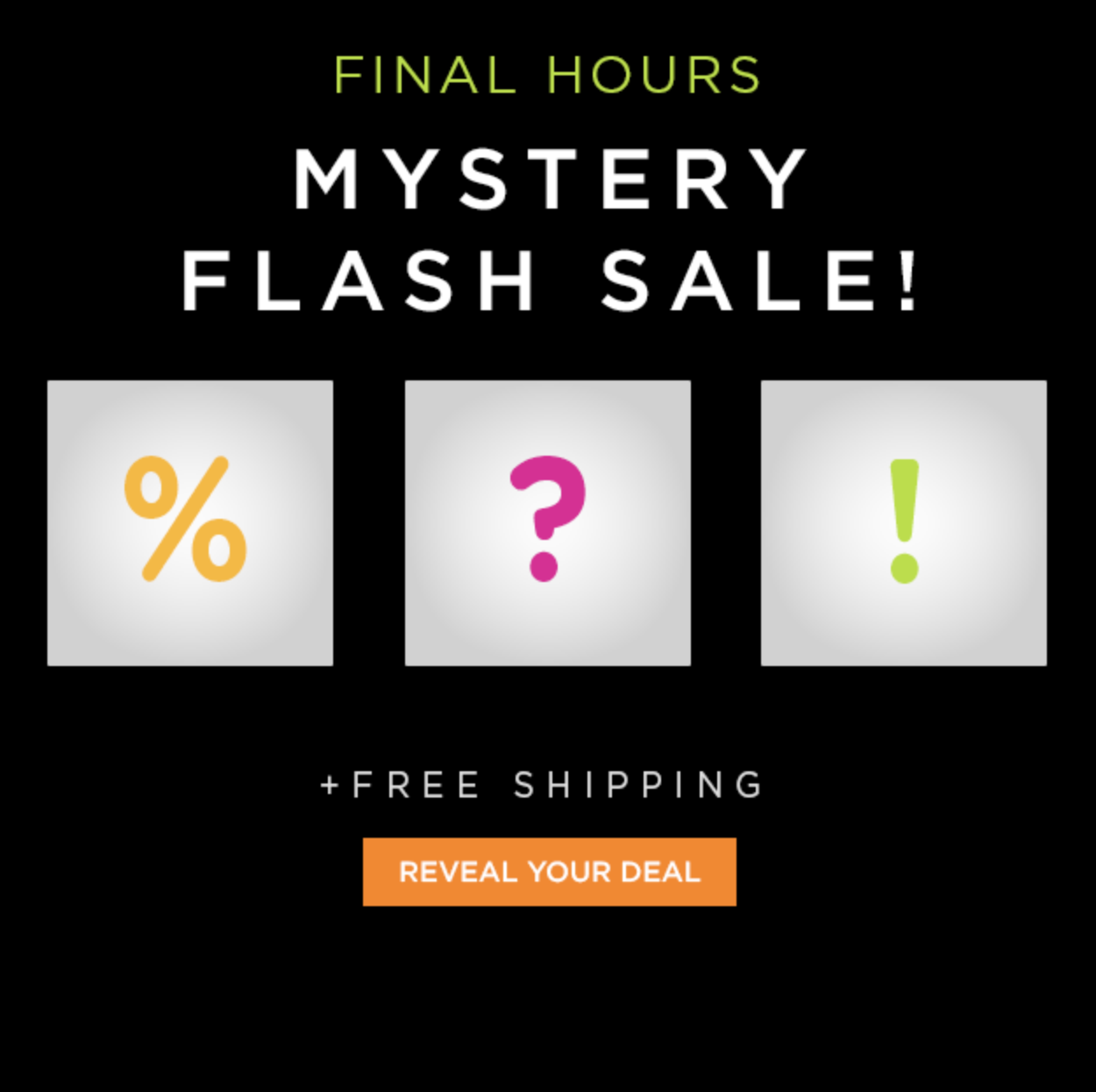 Why it works: This one is all about the mystery. It looks a little bit like a slot machine. Everyone loves that even if we don't want to admit it. For many people, it is almost impossible not to click to find out what "your deal" is. Plus the use of a GIF snaps your eyes immediately to the CTA, which stands out against the black backdrop.
5. Pottery Barn Kids
Why it works: Pottery Barn Kids tugs at the heartstrings with a cute kid in a well-designed room. This could be your kid. This could be his room. Forty percent is a significant discount for an expensive item, and "select dressers" builds mystery. Which ones? Maybe there's one that I'll really love? One thing I'd have changed would be to have only one CTA. If they clicked "Shop Now," you could easily have a CTA to find a store on the other side.
6. J. Crew Factory
Why it works: J. Crew Factory takes advantage of good sailing weather to create urgency that ties to real life. If you need some sailing clothes, and it's good sailing weather, and you're a sailor, this is an irresistible offer. To pull this off, you have to have your list segments really well. A sailor would feel the urgency because they know when sailing season is over.
Hope these ideas help!